Using CozyPhones to Cope with Sensory Processing Disorder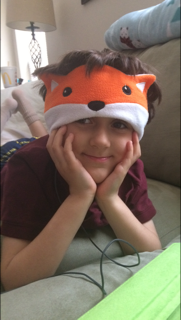 What was initially created as a sleeping aid for adults back in 2015, CozyPhones has become a top seller in the United States. It is ideal for travel, relaxation, sleep, and during exercise.
Most importantly, it has become a go to for parents who are trying to find ways to better serve children who battle with autism and Sensory Processing Disorder, a condition in which the brain has trouble receiving and responding to information that comes in through the one of the five senses.
Melissa Daniele, of Willowick, Ohio said she had been searching for that perfect pair of headphones for quite some time. Her six-year-old son, Gianni, was diagnosed with SPD back in just two years ago. Daily activities have become a struggle including textures and a lot of noise. As a result, Daniele began to search for a pair of headphones that would help keep Gianni at ease. 
"They don't even come close to comparing to the other headphones I have bought," Daniele said, who purchased the Fox CozyPhones back in March. "Other headphones either don't stay on his head or pull his hair and ear buds don't stay in his ears and get all tangled."


Kids' CozyPhones currently come in seven different characters. They include a smiley face, frog, cat, unicorn, fox, panda, and the Whatif Monster. Each pair has a sound limit of 85 decibels and has a flexible and durable 36 inch braided cord and sturdy 3.5 mm stereo plug made to last under normal wear and tear of everyday living with your child.

"I would definitely recommend CozyPhones as a parent of a child who has SPD and as a licensed counselor who works with young children who suffer with severe mental health disorders," Daniele said. "I work in an alternative school with 11 kids ages five to 9 who have severe ADHD and really struggle to manage their attention even when doing a preferred activity like playing on a Kindle or video game or even listening to a story on a computer.  
"The headphones are a distraction to them just like anything else," Daniele added. "CozyPhones are a perfect alternative to bulky, easy to break headphones for very young kids like mine in an alternative school environment."
CozyPhones is a veteran owned, U.S. based family business, which promises all of our customers a 100 percent satisfaction guarantee.
---