Ten Tips for Stress Free Travel This Holiday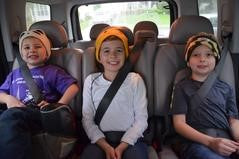 Soon many will head over the river and through the woods for warm meals, family time and gift giving. While it may be one of the best times of the year, it does can packed with a lot of stress. Especially if you'll be traveling with kids.
If you're still reading, chances are you're looking for a few ideas to make everything a little smoother. Here are a few of our favorite go-to tips:
Backpack It Up
Allow your kids to pack a few of their favorite items, including a good book or two, inside a small backpack. Try to limit how much they're bringing. An easy way to do this is by comparing it to a "carry-on" bag, no matter which form of transportation you'll be using. No one has time to clean up toys or keep track of everything inside. Keep in mind, there may be new items to bring back home.
Movies, Movies, Movies
Turn your vehicle or plane ride into a movie theater experience. Bring a few favorite movies for your little one to watch or surprise them with a new release. If it's a film they've never seen, it should have their full attention.  
One Word: Snacks
Popcorn may not be the best option, but a favorite snack goes great with any movie experience. Consider packing a special snack that your child may not get at home. You'll want to make sure they aren't loaded with sugar or you'll be dealing with an energy overload.   
Don't forget the Drinks
As much as you don't want to stop for potty breaks, a small drink might be nice to have. Consider placing a small cooler in the car for when your kids get thirsty. Out of sight, out of mind until it's absolutely needed. You may also want to skip the sugar drinks since they'll gulp these down much faster.
Snuggle Up
It's always tough to sleep without a pillow or blanket, especially during travel. Consider a travel pillow and small blanket to keep warm. This might also help when trying to get your little ones to sleep.
CozyPhones!
Of course, it wouldn't be a trip without packing your favorite pair of CozyPhones! Not only are they great for the movie, but they also act as an eye mask for nap time.
Game Time
CozyPhones are also perfect to use with gaming devices and tablets. Many of today's games are very educational. Be sure to pack plenty of batteries and make sure to charge all devices the night before. Otherwise, it will be a long trip.
Squeaky Clean
You know all those grocery bags piling up in your pantry? Consider packing a few under the seats for easy cleanup during pit stops or once you've arrived at your destination. Do you really want to find old Goldfish wrappers and lollipop sticks two months later?
Be-gone Germs!
Speaking of, disinfecting wipes are a huge must if you've got kids in the back seats. While we're on the topic, don't forget the tissues. You may also want to bring Tylenol or other medications, just in case.
Wardrobe Prep
Once you've arrived at your destination, you may have to make a quick wardrobe adjustment. Be sure to pack winter jackets, boots, or the complete opposite, based on where you're traveling.
These are just a few tips to help make your trip more calm and enjoyable. If you have others, feel free to share. Until then, safe travels and happy holidays!
---